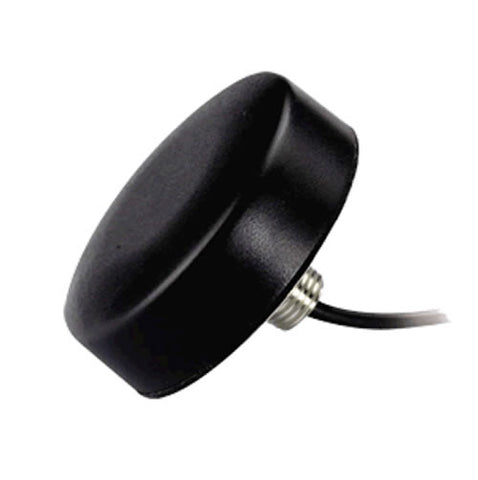 JCA044 Screw Mount GPS Passive Antenna
JCA044 is a screw mount GPS Passive Antenna designed to work without power supply and amplifying circuit. It receives weak signals and transmits to host directly. In open sky view areas, GPS signals are usually good enough for receivers' reception. Depending on usages and design of receiver products, passive antenna are also widely used in positioning and navigation equipment.
For your choice, determine that your GPS receiver uses a passive antenna first, then check what connector type matches your receiver and finally determine your cable length.
Specifications
Dielectric Antenna

Center Frequency: 1575.42 MHz±3 MHz
V.S.W.R < 1.5
Band Width: CF±5 MHz
Impedance: 50 ohm
Gain 3 dBic
Polarization: RHCP
Dimension 46x15mm

Mechanical

Cable: RG174 or others
Connector SMA/MCX/FAKRA or your specification
Radome Material ABS
Mounting: Screw
Housing color: Black

Environmental

Operating Temp: -40oC~+85oC
Storage Temp: -45oC~+100oC
Vibration 10 to 55Hz with 1.5mm amplitude 2 hours
Relative Humidity up to 95%
Ingress Protection IP65 ~ IP67
Environmentally Friendly ROHS Compliant
Dimension
For GPS system developers, we recommend to order and test few samples first before placing a quantity order. The listed price is the sample price.
All customized items are not returnable for refund if the products function as the specifications.
---
We Also Recommend