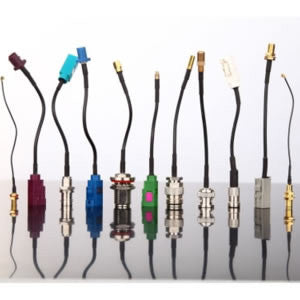 RF Antenna Adaptor Cables (different connector options)
RF antenna adaptor cable is usually used to connect an internal module to an external antenna, or to convert your current antenna connector type to another connector type so that you can use the antenna for a different receiver that uses a different connector to external antennas. The adaptor cable can also be used to extend the cable length of your current antenna.
We can make different RF antenna adaptor cable according to your specification. For your customization, you just need to specify two connector types and the cable length. Please keep in mind, one of the two connectors is to be attached to your antenna. Another connector is to be attached to your internal module or a receiver. They should be carefully specified correctly.
The default cable length is 10 cm or 4". If you need the adaptor cable to extend the cable length, you need to check how long the connection cable of your antenna can be extended. The longer the cable, the weaker is the signal because of signal loss after cable transmission.
For your reference, the followings are some typical samples of RF adaptor cables
Abbreviation for Connectors
S : Straight
B : Bulkhead-Mounted
P : Plug (male)        RA : Right angle
J : Jack (female)     D : Dip
  Connector Name : SMA(SP)+N(SP) / RF CABLE : LMR195
  Connector Name : SMA(SBJ)Au  /  RF CABLE : OD1.13
  Connector Name :  IPEX + SMA(SBJ) / RF CABLE : OD 1.13
  Connector Name : MMCX(RAP) + RSMA(SBJ) / RF CABLE : OD 1.13
  Connector Name : BNC(SP) + N(SP) / RF CABLE : RG58
  Connector Name : IPEX + TNC(SBJ) / RF CABLE : OD 1.13
  Connector Name : SMA(SP) + SMB(SP) / RF CABLE : RG316
  Connector Name : SMA90(RAP) / RF CABLE : OD1.37
  Connector Name : RSMA(SBJ)Au / RF CABLE :  OD1.13
  Connector Name : TNC(SBJ) / RF CABLE : RG316/U
  Connector Name : FAKRA(D)-SMB(SJ) / RF CABLE : RG174
  Connector Name : FAKRA(C)-SMB(SJ)  / RF CABLE : RG174
  Connector Name : U.FL-LP-068+U.FL-LP-068  / RF CABLE : OD1.13
  Connector Name : H.FL  / RF CABLE : OD 1.48