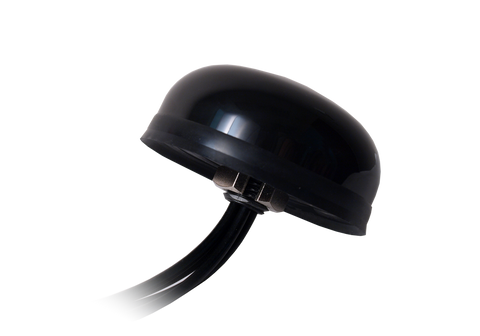 AW-10-B2L2W Active GNSS+LTE MIMO+WiFi MIMO Combination Antenna
AW-10 is a robust waterproof 5 ports LTE/GNSS/WiFi screw mount combination antenna, suitable for all outdoors applications which need precision GNSS location data and premium MIMO LTE and MIMO WiFi connections. 
Features
A powerful 5-in-1 combo antenna for vehicular telematics & M2M communications

2 LTE MIMO, 2 WiFi MIMO and 1 GNSS element

Heavy-duty low profile compact structure
Screws mount, IP67 Fully waterproof
Customizable cable assemblies and connectors
Technical Briefs
Function : GNSS / LTE / WIFI

Dimension : 108.9mm (L) * 108.9mm (W) * 48.5mm (H)

Mounting Type : Screw Mount

Antenna Element Count : 5 IN 1

Operating Temperature  :  -40 ~ +85 C

IP Rating : IPX7

Standard Antenna Products use SMA connectors.

If you need other type of connectors, please use our customization service .
Specifications

For system developers, we recommend to order and test few samples first before placing a quantity order. The listed price is our sample price.

All customized items are not returnable for refund if the products function as the specifications.
---
We Also Recommend